20/4/2019 An open area with comfortable chairs as well as the fixed architectural benches and table. Pleasant views of the valley and the two mountain ridges. Nice in the mild April weather, but maybe a bit exposed to valley winds.
-=-=-=-=-=-=-=-=-
At the bottom of the ascent Temple 20 (Kakurinji), I saw a sign for a toilet. My walking companions said they would wait for me at a rest hut just ahead indicated in my guidebook. I followed the directions for the toilet sign which lead me around some house backyards to a school, then around the school grounds. The school itself was deserted. Though the school was unused, it still had the appearance of being looked after. The outdoor toilet block was easily accessible and signs indicated that it was being kept for the use of passing Ohenro. The toilet block was old but seemed to be kept in reasonable repair.
I found the other two at the hut by the river where we all settled to have our respective lunches. We also shared some extra lollies and fruit that we individually had, then after a break of less than twenty minutes we headed off for the next climb up to Temple 21, Tairyuji.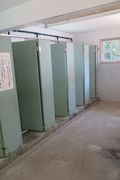 3 photos submitted