General Description:
Positioned about 31.5 km from Iwamotoji (T37), it is located along National Highway No. 56, near Umi-no-Omukae Station on the Tosa Kuroshio Railway, Nakamura Line.
The hut is a stilt type to bring it up to the level of the road surface. Located facing the Pacific Ocean, it has the form of a whale. If you sit on its benches, you can see the Pacific Ocean over the national highway.
2/10/2019 Comments:
On the edge of Highway 56 and in a car park. This is a potentially busy site. It is in a mildly built up area, there are nearby houses, so it is not isolated. Due to the hut's open structure it would be an excellent rest spot on a summer afternoon, shady with a sea breeze. It may be draughty and damp in wind and rain.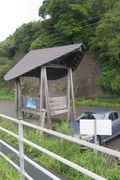 2 photos submitted