General Description: The hut is about 6 km from Tairyuji (T21) when coming down via the Byōdōji Trail. The path briefly crosses National Road 195. If coming from the bottom of the Tairyuji Ropeway along Highway 195 it is about 7km.
The hut is built on a piece of narrow triangular land, but it is large enough for a Henro hut by taking advantage of the terrain. The construction of the hut was largely done by local volunteers.
This is a good place to take a break before going over the Ōne Pass to Byōdōji (T22). Alternatively, Hut 47 (Ōne) is about 2.5 km further on, once you have climbed over the pass.
21/4/2019 Comments: The hut is about 30m from the Highway 195, but otherwise in a semi-rural area.
Due to its thin shape it would offer only minimal protection against rain, especially if it was windy. It would be good protection against the sun. In April 2019 there was a loose metal biscuit box containing some ossetai and papers located on the hut seat.
Nearby Michi no Eki (Wajiki): If walking down from T21 via Byōdōji trail, once arriving at Highway 195, it is a detour of about 300m to the west to get to the Michi-no-Eki. However, if coming from Naka Town along Highway 195 the Michi-no-Eki will be on the right hand side of the road before you reach the hut.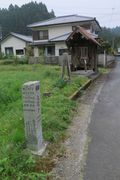 1 photo submitted