14/4/2019
From the outside this ryokan looked sort of like a normal Japanese two story house. I checked the phone number on the signage and assured it was the right place went in.
Because the next stretch between temple 11 and 12 was a notably hard slog, I had decided to spend the night at the beginning of that portion of pilgrimage. This meant my day had been fairly easy, only tenish kilometres. I had plenty of time to settle in and do some clothes washing. Fortuitous too. As I waited for the clothes to finish in the washing machine I watched as the bitumen outside turned several shades darker. The forecast rain had finally arrived. Glad I wasn't on the mountain trail then.
Rooms: Traditional futon on tatami. Room a little worn through use, but clean.
Laundry: Normal washing machines. Instructions are all in Japanese. Easy enough to use when you work out which is the "on" button.
Extras: The ryokan will provide a lunch of rice balls for a small fee. If you notify them early enough (ie the previous night). This is very handy as there is nothing between Temple 11 and 12 as far as food or drink available. Strongly Recommended.
An excellent start place for the T11-T12 trail for those of us who can manage, but aren't wanting to do any more in the day.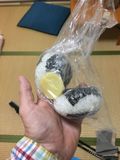 3 photos submitted