15/4/2019
I had organised my nights accommodation though a nice English speaking monk at Fujiidera.
After walking to Shosanji (T12) and not sure where my accommodation was exactly I saw a Japanese Ohenro couple on the road ahead. It turned out they were going to Nabeiwa So too. Amusingly, they were as positionally challenged as I was, so we carried on in blind faith together down hill and finally, there we were. Though I did surreptitiously watch the couple ask at reception confirming we had got the right place, just to be sure.
The building appears to be modern construction using old techniques. The basic wood work of the building consists of spectacular hewn columns and beams supporting the first floor structure and the exposed planed rafters and soffit of the roof. Corridors are polished wood.
Rooms: The rooms match the building style and are traditional Japanese tatami with futons. Quite clean, with large windows for light. The windows have sliding shoji screens to keep out insects etc, while still letting in the light. A warning for non Japanese. The rooms are not numbered, rather they seem to be named (in hiragana). There are no keys, with a tag to compare, so be careful you are sure which room is yours. It will save embarrassment! (don't ask how I know this)
Dining: Traditional Japanese meals served in a large common dining hall on the ground floor. There are western style tables and chairs. The kitchen is visible through a large servery.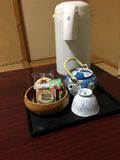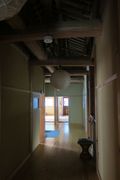 9 photos submitted