Best Time for the Shikoku Pilgrimage
Jan
Feb
Mar
Apr
May
Jun
Jul
Aug
Sep
Oct
Nov
Dec
Ideal Season
Moderate Season
Off Season
Spring is the most popular pilgrim season. Most consider it the optimal time of the year to traverse Shikoku's outdoors for its moderate temperatures and beautiful scenery. The Spring season lasts from mid-March to the end of May.
Weather and Temperatures
The weather from early to mid-March can still be too chilly – temperatures are sometimes only a few degrees above zero at high elevations. That said, if you wait until June, Japan's rainy season begins and lasts for several weeks. Rainy season then becomes typhoon season, which lasts until September.
In April, average temperatures hover nicely between 12ºc (53.6ºF) and 18ºc (64.4ºF). Most walking pilgrims choose to start their pilgrimage in early April and finish around the end of May. Rainfall during this time is lower than Summer and Autumn, and humidity levels sit around 70% to 78%. You may occasionally observe yellow skies and haze ("kōsa," 黄砂) – this is Aeolian dust transported from deserts or semi-arid areas of the Asian continent by winds from the west.
Cherry Blossom Season
If you're willing to withstand a little chilliness from mid to late March, you'll get to enjoy seas of pink during Shikoku's cherry blossom ("sakura," 桜) season. The trees start to bloom from the southern regions first and "move" their way up north. If you'd like, you can plan a sightseeing trip in the eastern and northern parts of Japan after your pilgrimage to enjoy the bloom even more. Visit this page for the forecasts of the next cherry blossom season.
Cherry blossom (sakura) in front of a statue of Kukai.
Cherry Blossom Forecast 2023
| Region | First Bloom | Full Bloom |
| --- | --- | --- |
| Tokushima, Tokushima | March 24 | March 31 |
| Kochi, Kochi | March 19 | March 27 |
| Matsuyama, Ehime | March 21 | March 30 |
| Takamatsu, Kagawa | March 24 | March 31 |
* Source: Japan Weather Association. Last updated on Feb 16, 2023.
If you're still not persuaded, Japanese stores and restaurants often offer sakura flavored treats during sakura season.
Sakura cheesecake with a side of fresh fruits.
Summer is not the most ideal season for a pilgrimage, but many still choose to go during this time for a few reasons.
Weather and Temperatures
Summers in Shikoku are generally hot and humid. Temperatures rise very quickly beginning in May (and continue to rise through August) before finally tapering off in September. In August – the hottest month of the year – the average high is 32.4ºc (90.32ºF), and the average low is 24.2ºc (75.56ºF).
Rainy Season
Japan's rainy season ("tsuyu," 梅雨) lasts for several weeks, from June through mid-July. Except for the northernmost island of Hokkaido, the entire Japanese archipelago is affected. Rainy season is known for sudden downpours that feel like free-falling buckets of water, making it perhaps the most unpleasant time to trek the outdoors.
Continuous downpours can last several days without a break. If you're not accustomed to tropical climates, you might also find the humidity during this season unbearable – it ranges from about 78% to 83% relative humidity during July and August.
On the plus side, visitors are more scarce during the summer. You will have a much easier time finding accommodations at cheaper prices, and won't have to worry about making reservations far in advance. Covered structures like temples, gardens, and hot springs can look more vibrant in the rain. The soothing sound of cicadas will also accompany you on your summer adventure.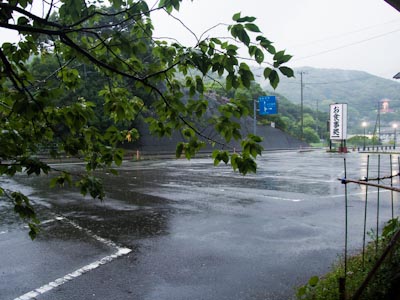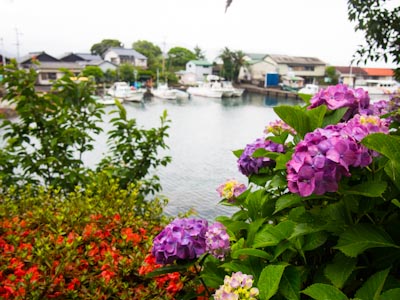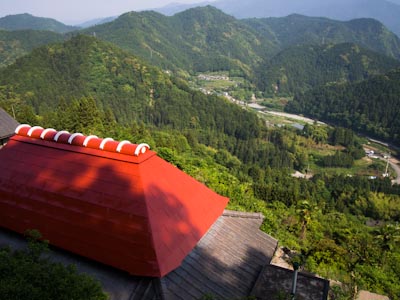 Summer Gear
For pilgrims who choose to embark during summer, be sure to use plenty of UV protection. If you are walking or biking the pilgrimage, you'll be in the sun for the majority of the day, and will ideally take advantage of the long daylight hours of summer to avoid walking in the dark. In May, one can enjoy 10 average daily hours of sun. It is important to protect yourself against long exposure to sunlight – nothing is worse than suffering sunburns on the trail.
No matter your mode of transportation, be sure to bring rain gear that is fully waterproof and made from higher quality breathable material. Summer pilgrims sweat constantly, and without appropriate attire become uncomfortably hot and moist. Your belongings will need protection too – even just a few minutes in heavy rain can completely soak the contents of an uncovered backpack.
Here are examples of rain covers for backpacks to protect backpack contents during the pilgrimage. Intense humidity can find its way into your things, even if the rain doesn't. It's very helpful to seal belongings in large, air-tight ziplock bags. Bags are also helpful in containerizing and organizing items. Learn more about what to bring on the pilgrimage.
Mosquitoes
Warm and humid summer months provide an ideal environment for mosquitoes to spawn. They are most active at dusk, and will continue their unrelenting hunt for blood until early October. A breed of large, striped mosquito called the tiger mosquito can spread a terrible disease known as Japanese encephalitis , which causes fever, headaches, and vomiting for up to two weeks (and, in very rare cases, is fatal). The United State's CDC recommends vaccination against Japanese encephalitis before spending prolonged times in the Japanese countryside.
You should try to be as mosquito-proof as possible during your pilgrimage. Even with full protection, it is inevitable that at least a few mosquitos will get you, so it is also advisable to bring products to treat mosquito bites. Click here for a list of recommended repellants.
Due to the rain, humidity, and bugs, most pilgrims do not plan their pilgrimage during the hot summer months. Compared to most places in the United States or Europe, summers in East Asia are intense and tropical. Unless you have experience trekking in high humidity and soaring temperatures, we recommend avoiding June through August for your Shikoku pilgrimage.
Autumn
September – November
Autumn in Japan lasts from early September to the end of November. The scenery and weather during this time is delightful, making autumn the second most popular season for pilgrims. Shikoku is full of trees that change into brilliant reds and oranges, and cool autumn winds twirl alongside pilgrims, making autumn a great season for adventure.
Weather and Temperatures
Temperatures begin to fall gradually in Autumn. In September, expect anywhere from 17.8ºc (64ºF) to 24.1ºc (75.4ºF). By November, those temperatures will have dropped to an average between 6.2ºc (43.1ºF) to 12.9ºc (55.3ºF). The nice Fall breeze in Shikoku comes from the frequent passage of anticyclonic wind systems, which bring clear skies and fresh air to the island. However, rainfall remains high during this time, especially in the southern regions of Shikoku. You may also encounter a typhoon.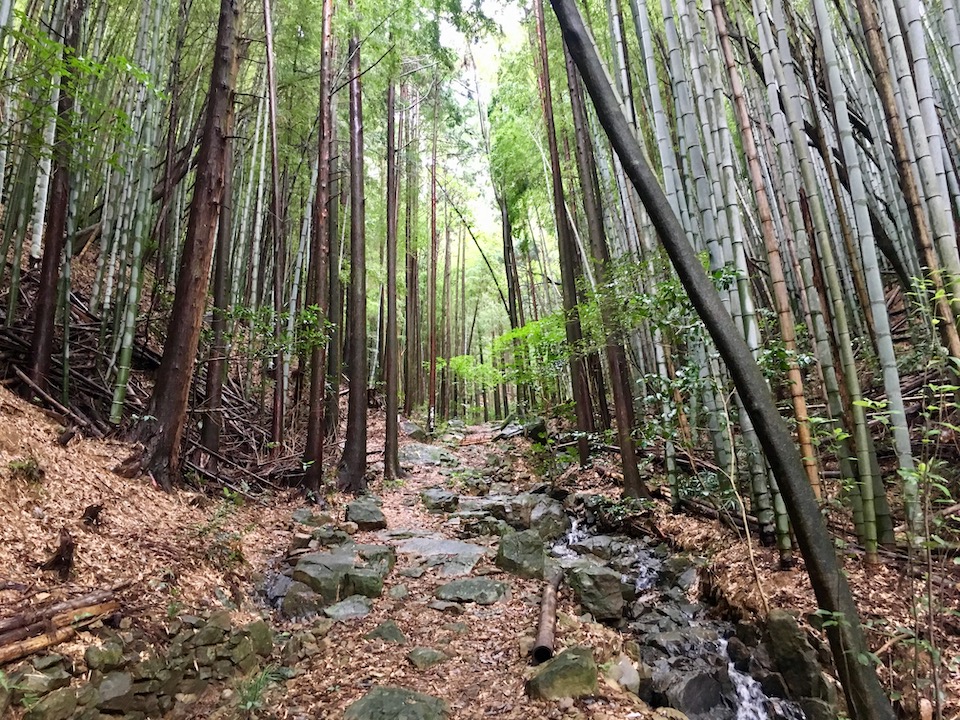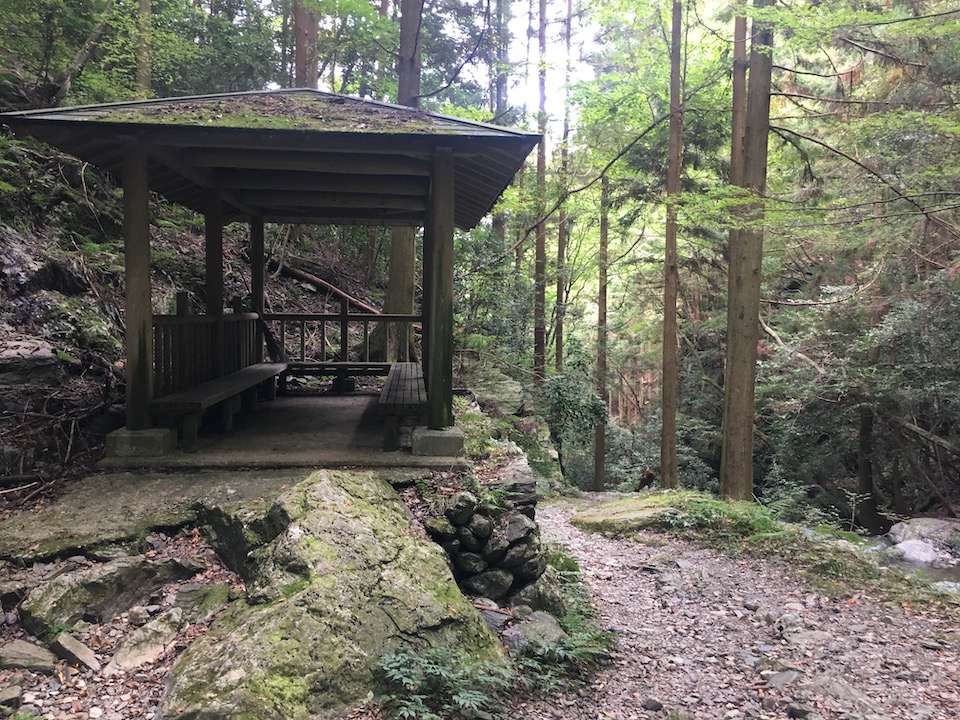 Festival Season (Crowded Areas)
Temple activities and festivities occur frequently during Autumn in Shikoku. If you are headed to a larger city during the pilgrimage, be sure to book reservations as far in advance as possible, and be prepared for crowds in the cities. The ideal time to begin a Fall pilgrimage is from the beginning of September (and you may aim to finish before mid-November, when temperatures at higher elevations often fall below freezing).
Winter
December – February
Winter ❄️
December – February
Winters in Shikoku are rather mild compared to the Japanese mainland. You'll occasionally see snow if you're high up in the mountains. Several temples are at a high enough altitude that you may find them covered in a layer of snow, such as Temple 44 – Daihoji, Temple 45 – Iwayaji, and Temple 66 – Unpenji. The scenary can be quite stunning.
In the winter, days are short (an average of 5.3 hours of sunlight per day in December and January). Pilgrims often find themselves traveling in the freezing dark, and it may take longer than usual to complete the pilgrimage. Remember, most pilgrim trails and roads are far away from towns or cities. Many Shikoku natives advise against going on a pilgrimage during the winter.
Snow on a mountain with a river flowing through.
The Season for Mikan
The winter season is also the season for mikan, a type of mandarin orange that is native to Japan. Mikan are harvested in the winter, between December and February, and are often sold in small bags at local markets and convenience stores. They can also be wrapped in mochi (glutinous rice cakes) and sold as desserts. Pilgrims who walk during this time will often see mikan trees along the way.
Mikan tree with ripe mikan along the Shikoku Pilgrimage trail.
Setoka daifuku, setoka (a hybrid of various citrus fruits) wrapped in glutinous rice cake.
Beware of Lodging and Temple Closures
Moreover, because the winter season is highly unpopular for pilgrims, many local businesses choose to close during this time, and temples may close off sections of the temple grounds for reconstruction or maintenance. That all said, hardcore winter pilgrims who suffer the cold come away with stories of unmarred tranquility and the beauty of the snow.
Disposable warmers (kairo) for your hands and feet.